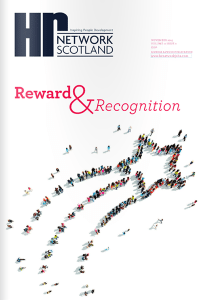 Hr NETWORK (SCOTLAND) magazine is the leading magazine for all HR & Training practitioners, qualified and non-qualified throughout Scotland. 
As well as readers from the world of HR & Training in Scotland, the magazine is also extremely popular among SME (Small and Medium Enterprise) Organisations and is distributed FREE to line managers, heads of department, senior management, managing directors and other professionals throughout the country who play a vital role in the development of people within all industry sectors in Scotland.
Whether you work in the Public or Private Sectors, Professional Services, Charities or Manufacturing, or whether you carry out generalist or specialist responsibilities, whatever your area, if it's relative to the management & development of people, then Hr NETWORK (SCOTLAND) Magazine will be sent to you on a regular basis.
Published bi-monthly with a minimum of 48 full colour, high quality pages, Hr NETWORK (SCOTLAND) magazine is informative and a 'must have' for its readers, and brings with it in every issue, great opportunities and benefits for advertisers and sponsors too.