Hr NETWORK Conference & Exhibition – 'Strategic Workforce Planning' – EDINBURGH – Thursday 13th May 2021
A strategic workforce plan sets out important information on a wide range of key people development areas such as talent attraction and recruiting the best talent, area's of productivity, attrition and other risk factor's and creates a environment where people can thrive in line with the business' success.
Speakers from a range of award-winning organisations who have created and implemented a sustainable workforce plan, and are reaping significant organisational benefits that have led to increased productivity, improved job satisfaction metrics and gained a clear competitive advantage in their marketplace, will provide valuable insight into implementing a sound and measurable people plan.
The Hr NETWORK Conference & Exhibition 2021 will take place at the Grosvenor Hotel in Edinburgh's West End on Thursday 13th May 2021 with around 350 delegates from the world of people management and development in Scotland. Delegates will hear two Key Note speakers as well as the wide range of breakout session speakers along with the very popular exhibitor area, which is full of goodies from a range of key HR & people product and service providers.
We are delighted to provide a full range of insightful and thought-provoking breakout session topics below and delegates may choose one session from each stream. The delegate package also includes the morning and afternoon key note speaker sessions and we will confirm the key note speakers VERY SOON!
List of Breakout Sessions:
Stream 1
Session 1 – The HR Revolution – Building the HR team of the future
Session 2 – Workforce Planning & Employment Law: Creating a simple and collaborative process
Session 3 – Skills for the Future: Creating a path for others to follow
Stream 2
Session 4 – Workforce Career Management: What Workers Want!
Session 5 – A Resilient Workforce: Developing and embedding a culture of resilience in the workplace
Session 6 – Employee Value Proposition: Aligning your people strategy to meet organisational objectives
Stream 3
Session 7 – Strategic Workforce Planning: Enabling strategic growth through your people
Session 8 – Retraining & Up-skilling the Workforce : Tapping into hidden talent
Session 9 – Health & Wellbeing: A strategy for maintaining a healthy workforce
Stream 4
Session 10 – Work's Mental: Zero to Hero on the mental health journey
Session 11 – Truly Flexible Working: Can it work for everyone?
Session 12 – People Analytics: Using technology to support your strategic workforce plan
DELEGATE COSTS
From 1st September 2020 the costs for attending the Conference & Exhibition are as follows:
HR Practitioner (Non-commercial) – £125+VAT (Valid until Sunday 28th February 2021)
Others (Including HR, recruitment and management consultants and advisors) – £175+VAT (Valid until Sunday 28th February 2021)
For further information regarding the Conference including speaking, sponsoring, exhibiting or the delegate booking information relating to whether you are a 'HR Practitioner' or 'Other' delegate, please contact the Conference Planning Team on Tel: 0131 625 3267 or email: subscriptions@hrnetworkscotland.co.uk
The Hr NETWORK Conference & Exhibition speaker programme included a wide range of topics featuring: Employee Experience, Strategic HR, Smart Employment Law and much more. Secure your conference place now, which you can do so easily by completing the form (link available below).
Some of the great organisations that spoke at the Conference included:
WestJet; People's Postcode Lottery; Nucleus; Burness Paull; Scottish Rugby; Tennent's; SSE; CYBG Virgin Money; ScottishPower; Roffey Park Institute and many more!
Morning Keynote Speaker – Pam August, Director of Culture Activation, WestJet

'Love where you're going'
With a people-focused approach that has made it famous – many of us will be amongst the 48.5 million people who watched the WestJet Christmas Miracle campaign – Pam will talk about the importance WestJet has placed, from day one, on the company's culture to create the most passenger-friendly, financially successful major airline. Recognised as Best Airline in Canada and Travellers' Choice winner – North America for 2017 and 2018 in the TripAdvisor Travellers' Choice awards for Airlines – WestJet continues to grow globally, with the launch of its 787 Dreamliner service (WestJet has been flying from Canada to Glasgow seasonally since 2015). As well as sharing some of the company's history and its culture focused business model that underpins its success, Pam will also share lessons learnt from the company's recent transition into a global brand as it rapidly scales up.
Afternoon Keynote Speaker – Dr. Robert Coles, CEO, Roffey Park Institute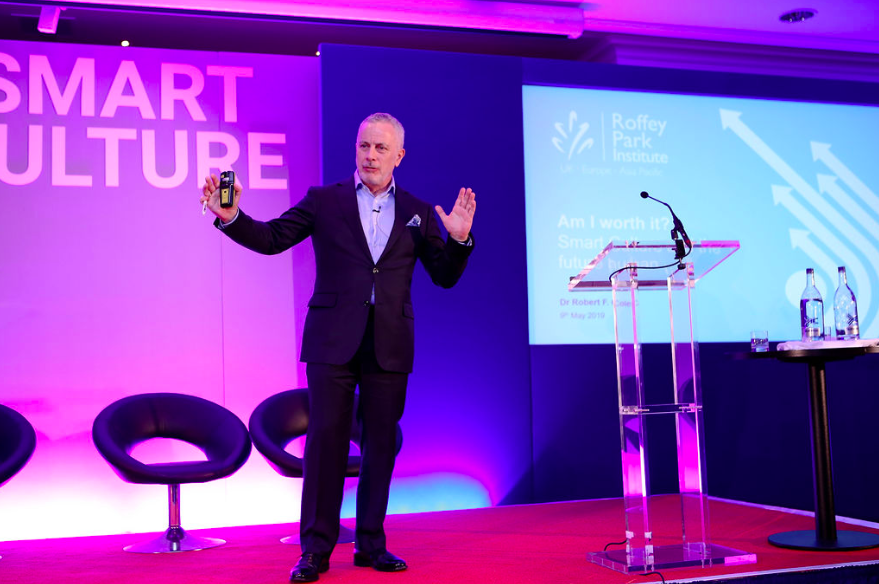 How to be smarter than the digital age – the post-digital value of future humans
We all know the lure of the digital age, from beautifully clean pictures of a perfect digital world, to marketing presentations that seem to show there will be nobody alive over 30 – other than Robots perhaps. The reality is different; digitisation will have social, human and environmental costs. And, unless you believe data is the same as human values, there is a key role for the future human, at work and at play. More than ever, we will need to create, share and demonstrate judgment, Judgment that is socially generated and gives human meaning to data. Inter-competence© will replace atomised, individual competence. In his keynote, Robert we will discuss how we should value ourselves in the future and what the cultural implications are for HR and HRD's in creating and leveraging the smart organisations that will succeed in tomorrow's digital world. There are alternatives to the 'inevitable' picture that is being painted.
Click the banner below to view all the pics from the Leaders Dinner, Conference & Exhibition 2019