Hr NETWORK Leaders Dinner, supported by The Guardian Jobs, is the latest addition to the Hr NETWORK family.
For many years, Hr NETWORK has gathered senior HR leaders to the annual pre-Conference leaders event, to take part in a discussion on some of the most topical subjects affecting the workplace, today. Always a great opportunity to come together and share knowledge and make new connections, the Forum is now set for a change in format.
The Forum has previously been conducted in a BBC Question Time format with a panel of senior HR professionals debating on a range of workplace challenges and issues. More recently the format of the event has changed to a Piers Morgan Life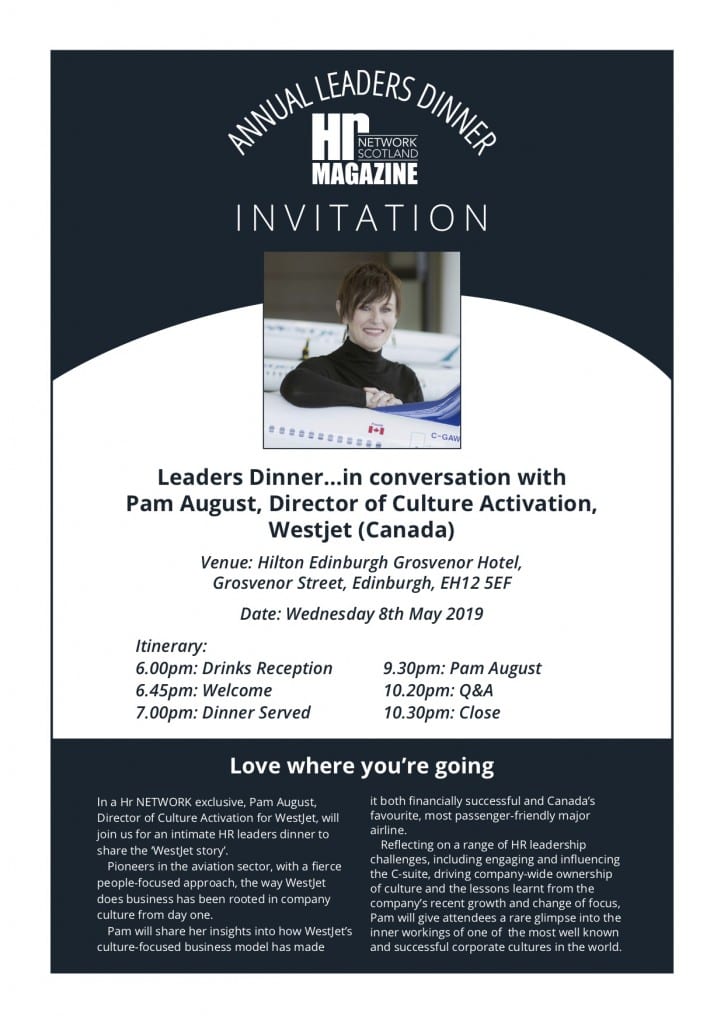 Stories interview which featured in its inaugural interview, Sandy Begbie CBE, Chief People Officer at Standard Life Aberdeen (SLA) who has since stepped down from this role with the Edinburgh investment giant, but still remains on the Board for the Joint Venture Heng An Standard Life in China and the Asia business based in Hong Kong.
The forum has now been replaced with a Leaders Dinner, wonderfully supported by The Guardian Jobs, for around 120 senior HR leaders and associated people professionals and will continue to feature a leading HR and business personality through the very popular Piers Morgan Life Stories format. The event provides some great knowledge sharing and networking opportunities.

The all-new HR Leaders Dinner, which will be hosted by Jane Sparrow, founder of The Culture Builders, will take place on Wednesday 8th May at the Hilton Edinburgh Grosvenor Hotel in Edinburgh's West End.
Love where you're going…
We are thrilled to announce that the speaker for the evening, following dinner, is Pam August, director for Culture Activation at WestJet, Canada's most financially successful and favourite most passenger-friendly major airline. Pam will reflect on a range of leadership challenges, including engaging and influencing the C-suite, driving company-wide ownership of culture and the lessons learnt from the company's recent growth and change of focus.
About Pam August:
Pam August, Director of Culture Activation at WestJet, leads the organisation's culture roadmap to ensure that WestJet's renowned culture continues to develop, supporting WestJet's business strategy with both strong vision and intention; by design not default. Over the past 14 years, Pam has worked with all organisational levels from the executive leadership team to front line employees, and across all departments, to build strong connection and alignment. This has included leading the organisation in the co-creation of its 2022 vision, 'See it 2022', and re-articulation of WestJet's core values. Outside of WestJet, Pam also works with select purpose driven organisations supporting their culture development. A passionate lifelong learner, Pam has a Bachelor's Degree in Adult Education, instructed several years at the college level, and is finishing her Masters of Arts in Leadership at Royal Roads University. She is also the mother to a 17-year-old Private Pilot who can't yet drive a car which means if she wants to go flying, she has to do the driving!
For further details, on hosting a Table of 10 or to explore the various sponsorship opportunities, please contact: Tel; 0131 625 3267 or email: subscriptions@hrnetworkscotland.co.uk