NHS Scotland honoured with Outstanding Contribution to Scottish HR award
The winners of this years hugely exciting and much anticipated Hr NETWORK National Awards 2021 in partnership with Roffey Park Institute were announced at the 'star-studded' annual Gala Dinner, which was held at the impressive Hilton Glasgow on Thursday evening.
The event, the largest of its kind for HR professionals anywhere in Scotland, which historically attracts around 800 guests, attracted a post-COVID guest list of around 600 guests on Thursday evening to recognise, acknowledge and reward the champions of the Scottish HR profession showcased winners including: Three UK (HR Manager/Advisor) ScottishPower (HR Team) and NHS Scotland's Workforce winning the Outstanding Contribution to Scottish.
There was also a surprise presentation of the Spirit of HR award, last presented at the Gala Dinner in 2015, which was presented to the family of the late Shona McKenzie, a senior recruitment & HR expert, for her dedication and professionalism during a 40 year career, who suddenly passed away on the 27th August 2021 leaving a huge sense of loss for family, friends and colleagues.
The Gala Dinner theme was etched with moon and stars throughout the presentation which was inspired by two of Shona's favourite songs, Life on Mars by David Bowie and The Woman in the Moon by Barbara Streisand from the 70's movie A Star is Born, and the flagship event for HR professionals across the whole of Scotland was once again hosted by radio & TV presenter and broadcaster Stephen Jardine.
The coveted Outstanding Contribution to Scottish HR award was presented to NHS Scotland's Workforce for their commitment and dedication to the people of Scotland during the pandemic. Front-line workers Jan Ferguson, a senior charge nurse at NHS Lothian and NHS Vaccinator Donna Turner, collected the award from Stephen Jardine on behalf of Jacqui Jones, Director of Human Resources and Workforce Development at NHS National Services Scotland and her colleagues, who were unable to attend the Gala Dinner.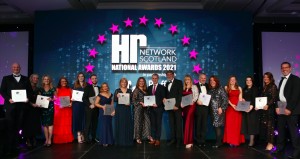 Category winners of the Hr NETWORK National Awards for 2021 are:
The Search Consultancy Learning & Development Award of the Year – Winner: Menzies Aviation
The ZLX Business Solutions HR Specialist of the Year – Winner: Julia Stevenson, Scottish Water
The Brodies LLP HR Graduate of the Year – Winner: Fraser Gillespie, Strathclyde Business School
HR Project of the Year – Winner: Aegon UK
HR Assistant/Officer of the Year – Winner: Clare Marshall, Falkirk Council
The Three UK Diversity & Inclusion Award of the Year – Winner: SSE plc
The Right Management HR Business Partner of the Year – Winner: Jenny Douglas, Caledonia Housing Association
The Guardian Service Employee Engagement Award of the Year Winner:  Turning Point Scotland
The Roffey Park Institute Organisational Development Award of the Year – Winner: TSB Bank
The ScottishPower HR Manager/Advisor of the Year – Winner: Kathleen MacLeod, Three UK
The Love Your Employees Health and Wellbeing Award of the Year Winner: Morgan Stanley
The Navigator Employment Law HR Team of the Year – Winner: ScottishPower
The Jobtrain Best Employer/Workplace of the Year – Winner: Tata Consultancy Services
The LHH HR Director of the Year – Winner: Lesley Naylor, Gilson Gray LLP
Outstanding Contribution to Scottish HR – Winner: NHS Scotland Workforce
Further information regarding the winners and the gala dinner, including all the photographs from the evening will be available in due course. For details regarding Nominating in 2022, Sponsorship and Table Hosting, please contact the Awards Planning Team on Tel: 0131 625 3267 or email: awards@hrnetworkscotland.co.uk