Former Aegon HR chief honoured with award for Outstanding Contribution to Scottish HR
The winners of this year's hugely exciting and much anticipated Hr NETWORK National Awards 2022 in partnership with Roffey Park Institute were announced at the 'star-studded' annual Gala Dinner, held at the impressive Hilton Glasgow on Thursday evening.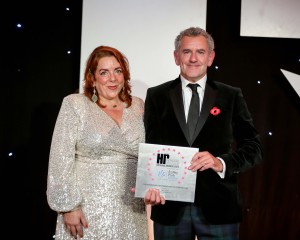 The event, the largest of its kind for HR professionals anywhere in Scotland, which historically attracts around 800 guests, attracted a post-COVID guest list of around 700+ guests on Thursday evening to recognise, acknowledge and reward the champions of the Scottish HR profession showcased winners including: Business Stream (Corporate Responsibility Award) VisitScotland (HR Team) and Aegon UK's former HR Director Gill Scott, who was presented with the Award for Outstanding Contribution to Scottish HR.
The Gala Dinner theme was a remembrance theme in recognition of the Armistice Day with Poppies scattered throughout the design on the evening and the flagship event for HR professionals across the whole of Scotland was once again hosted by radio & TV presenter and broadcaster Stephen Jardine.
The coveted Outstanding Contribution to Scottish HR award was presented to Gill Scott for her commitment and dedication to the HR Director role she took up in 2010.
A full review of the evening including all the pics and highlights from the event will be published in the next issue of Hr NETWORK Magazine.
Category winners of the Hr NETWORK National Awards for 2022 are:
Learning & Development Award of the Year, sponsored by Search Consultancy – Webhelp UK
HR Project of the Year – Multrees Investor Services
HR Graduate of the Year, sponsored by Brodies LLP – Sarah Lawson, Strathclyde Business School
Attraction & Resourcing Award of the Year, sponsored by Be-IT Resourcing – Gleneagles
Corporate Responsibility Award of the Year – Business Stream
Diversity & Inclusion Award of the Year, sponsored by Three UK – Tata Consultancy Services
HR Business Partner of the Year, sponsored by Right Management – Rachael Tochel, Webhelp UK
Employee Engagement Award of the Year – Zero Waste Scotland
Organisational Development Award of the Year, sponsored by Roffey Park Institute – Barclays Scotland
Health and Wellbeing Award of the Year, sponsored by Love Your Employees – Scottish Water
HR Team of the Year, sponsored by Navigator Employment Law – VisitScotland
Best Employer/Workplace of the Year, sponsored by Jobtrain – Barclays Scotland
CEO of the Year: Jim Gillespie, Kibble Education & Care Centre
HR Director of the Year sponsored by LHH – Kevin Staunton, Turning Point Scotland
Outstanding Contribution to Scottish HR – Gill Scott,  Aegon UK (Retired)
Further information regarding the winners and the gala dinner, including all the photographs from the evening will be available in due course. For details regarding Nominating in 2023, Sponsorship and Table Hosting, please contact the Awards Planning Team on Tel: 0131 625 3267 or email: awards@hrnetworkscotland.co.uk