SMART CULTURE
The workplace of today is more dynamic than ever before and so it demands a more innovative and creative approach to building a satisfying and rewarding environment for its employees. Attracting the best talent and driving employee engagement impacts happiness and ultimately affects employee performance. The results for the organisation can be enormous.
Speakers from a range of award-winning organisations who, by adopting a Smart Culture approach, have increased productivity, enhanced job satisfaction and gained a clear competitive advantage in the marketplace and will share examples of some of their best practice.
The Hr NETWORK Conference & Exhibition 2019 will take place at the Hilton Grosvenor Hotel in Edinburgh's West End on Thursday 9th May 2019 with around 350 delegates from the world of people management and development in Scotland.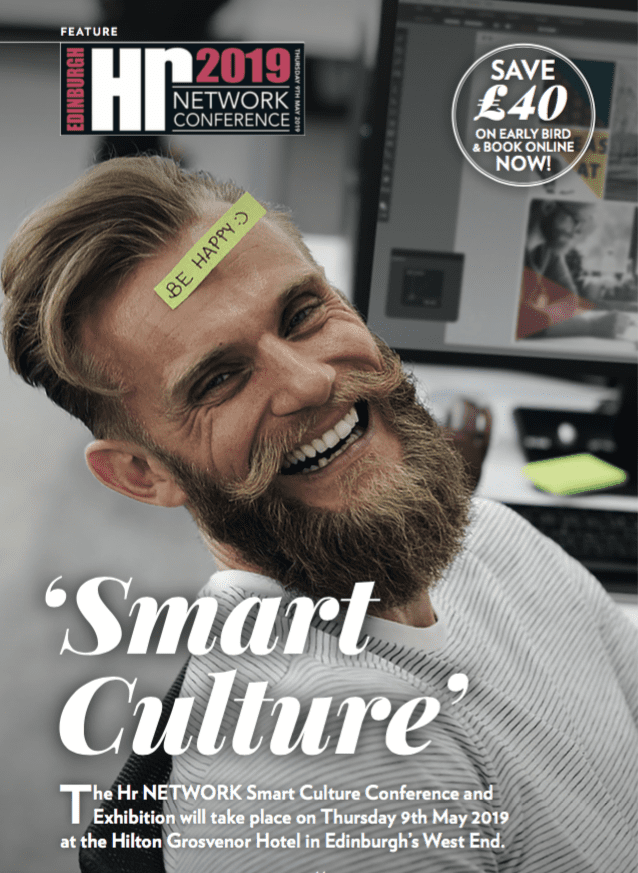 Smart Culture is the main theme and leading experts and practitioners from across the HR landscape will discuss a range of hugely relevant topics relating to this intriguing subject. Delegates will hear two Key Note speakers as well as the wide range of breakout session speakers who will provide insight into creating a smart culture throughout the organisation.
SAVE £40 by booking NOW: DELEGATE BOOKING FORM
The Planning Team are still in the process of confirming the full speaker programme which they hope to do very soon however if you would like to secure your conference place now, you can do so easily by completing the form (link available above) and when the sessions are confirmed, a member from our planning team will simply contact you directly to obtain your session choices.
Some of the great themes that you can expect to see at the Conference include:
Smart Culture; Employee Experience; Culture Activation; Engaging & Influencing the C-Suite; Delighting Customers and Employees The Same Way; and much more
Some of the great organisations that you can expect to see speaking at the Conference include:
Westjet (Canada); Arnold Clark Group; Nucleus; Burness Paull; Tennent's; and many more!
Delegate Package includes:
2 x Keynote Speakers
Choice of up to 4 Sessions
Access to Exhibitor & Network Area
Lunch & Refreshments during the day
Early Bird Delegate Costs:
HR Practitioner (non commercial) – *£125+VAT
Others (including: Consultants and Independent Advisors) – **£175+VAT
*Early Bird discount available until 28th February 2019. From 1st March the cost will be £165+VAT
**Early Bird discount available until 28th February 2019. From 1st March the cost will be £215+VAT
If you have any enquiries with reference to the conference, please do not hesitate to contact the Conference Planning Team on Tel: 0131 625 3267 or email: subscriptions@hrnetworkscotland.co.uk
WE LOOK FORWARD TO WELCOMING YOU TO THE 'Smart Culture' CONFERENCE & EXHIBITION IN EDINBURGH ON 9TH MAY 2019!