The Hr NETWORK 'SMART CULTURE' Conference & Exhibition 2019, will take place at the Hilton Grosvenor Hotel, Edinburgh on Thursday 9th May and the planning team are very excited to confirm details today for this year's breakout session topics. With session topics including: Smart Culture; Employee Experience; Transforming Talent; Strategic People Planning; Diversity & Inclusion and much more, this years Conference is proving to be extremely popular.
A number of leading HR and people professionals from a variety of organisations including: Arnold Clark Group; Westjet (Canada); Tennent's; Scottish Rugby; SSE; Nucleus Financial and many more, will provide an insight in to the intriguing topic of SMART CULTURE and the organisers are certain that delegates will leave the Conference with a greater understanding of how best to apply the smart culture techniques and processes within their own organisations.
Due to the high demand for delegate places for the Conference, the events planning team are urging delegates to book their delegate place as soon as possible. Please complete the booking form, which can be found by clicking the link below and the conference planning team, will take care of the rest!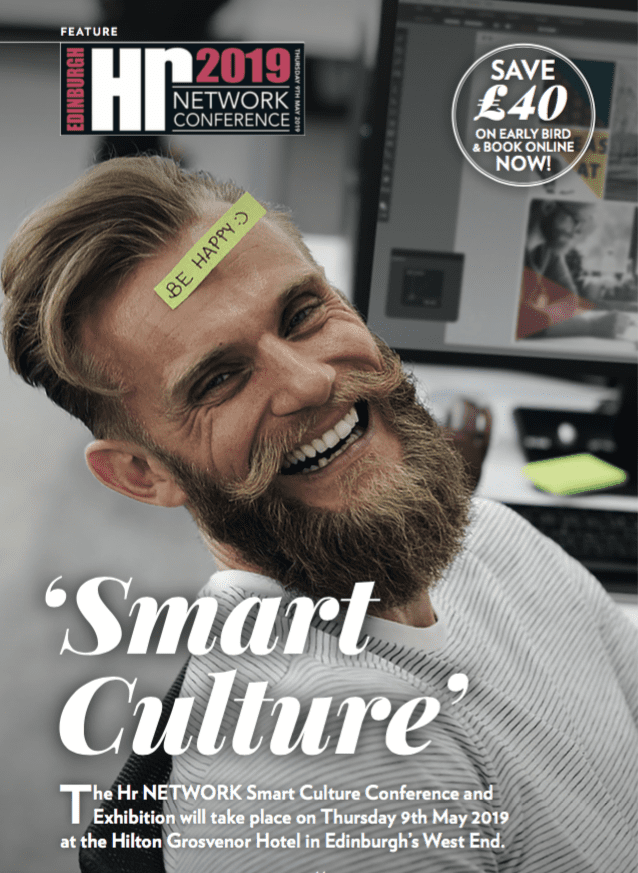 – Event: Hr NETWORK Conference & Exhibition 2019
– Date: Thursday 9th May 2019
– Venue: Grosvenor Street, Haymarket, Edinburgh, EH12 5EF
– Registration 8.30am to 9.15m
– Conference Start: 9.30am
– Lunch 1pm to 1.45pm
– Refreshments: Includes morning & afternoon refreshments and lunch
– Conference Close: 4.50pm
Stream 1
Session 1 – Employee Experience: Delighting your employees the same way as your customers
Session 2 – Smart Culture, Smart Workplaces, Smart Conversations…Smart Employment Law
Session 3 – Transformational HR: How HR can thrive in a world of disruption
Stream 2
Session 4 – Talent Foundations: Transforming talent at Tennent's
Session 5 – Transforming CYBG and Virgin Money – Creating high performance through purpose and culture
Session 6 – Reward & Recognition: Creating a rewarding culture for all
Stream 3
Session 7 – From Employee Engagement to People Experience: How taking a joined up approach delivers business performance
Session 8 – Learning & Development: Creating a leadership led approach to workforce development
Session 9 – Strategic People Planning at Scottish Rugby: Transitioning from changing room to boardroom
Stream 4
Session 10 – Culture Masterclass: Understanding people & change
Session 11 – A Diverse Workforce: Embedding diversity & inclusion in the culture of the organisation
Session 12 – Agile Working: The real impact on engagement and talent attraction
To book your delegate place, click the Delegate Booking Form link:
www.hrnetworkjobs.com/events/conference/
The cost for attending the Conference on 9th  May 2019 is:
*HR Practitioner £125+VAT
*Non-practitioner £165+VAT
*Please note that these costs are valid until Thursday 28th February 2019. From  Friday 1st March the costs will increase to:
HR Practitioner £165+VAT
Non-practitioner £215+VAT
Pay by Bacs:
If you wish to pay by Bacs payment – please select this on the booking form and an invoice will be sent to you directly. The bank account number is: 06475944 sort code 80-22-60. Please use your name as the payment reference. A receipt will be provided when full payment has been received.
Pay by Credit Card:
If you would like to pay by Credit Card – please select this on the booking form and a member of the conference planning team will contact you soon to obtain your details for payment.
Joining instructions for the Hr NETWORK Conference and Exhibition 2019 will be emailed to you when full payment has been received.
If you have any enquiries with reference to the Conference, please contact the Conference Planning Team on Tel: 0131 625 3267 or email: subscriptions@hrnetworkscotland.co.uk
WE LOOK FORWARD TO SEEING YOU AT THE CONFERENCE!