Edinburgh tech accessory firm looks to ease the physical strain of working in a home office space
A Scottish tech accessory company is offering a solution to millions of employees suffering from the aches and pains of working from home following a huge rise in physical health issues since the UK's workforce was effectively sent home when the country went into lockdown in March due to the Coronavirus pandemic.
Now Edinburgh-based G-Hold has developed a kit that eases the physical strain of working in a home office space.
Founder and CEO Alison Grieve said: "Not many people have a home office environment that is ergonomically optimised for working and as a result people are developing lots of back, neck, shoulder, hand and wrist problems which can plague them for the rest of their lives. Our Working From Home Kit encourages people to sit and stand comfortably and correctly, with good posture while working at their computers and tablets, or on their mobile phone or video call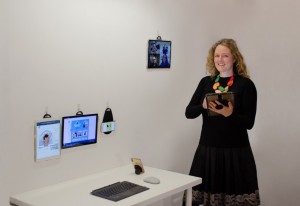 s."
A survey of homeworkers by the Institute for Employment Studies shortly after lockdown started, found more than half were reporting new aches and pains, particularly in the neck, back and shoulders.
It described a "significant increase in musculoskeletal complaints" and its interim findings identified ensuring a home office set-up is safe and ergonomic as a key action point for employers.
Edinburgh osteopath Gavin Routledge has also witnessed a big rise in musculoskeletal complaints in recent months. Gavin commented: "I am seeing more pain in areas like neck, shoulders and lower back, plus things like repetitive strain injury in hands and wrists, as well as headaches. With lots of new and existing clients I've seen a clear correlation that within four weeks of beginning to work from home a lot of them are suffering, either by developing new problems or exacerbating existing ones."
Alison was featured on TV's Dragons' Den four years ago with her revolutionary G-Hold ergonomic holders for tablet computers.
Although the Dragons turned her down, she has gone on to grow the company and also develop a similar holder and stand for mobile phones. Both products were developed with considerable lab testing and have been proven to reduce strain on arms, shoulders, wrists and hands.
But after hearing of growing problems being faced by homeworkers during lockdown she realised she needed to do more.
The Working From Home Kit includes holders for phones and tablets, as well as 'Home Hangs' that enable users to hang devices from any picture hook or kitchen utensil hanger to allow conference video calls to be viewed at whatever height and position is most comfortable.
"Whenever you're on a group video call you can see the way people are leaning forward on their laptop, phone or tablet, or to see the screen properly. These sorts of devices are brilliant for their portability and take up very little space in cramped environments, but homes haven't been designed to position these devices with postural health in mind."
Paul Holleran, a health and safety officer with the GMB union, agreed that the physical impact of home working was being neglected too often by employers. Paul commented: "Physical, musculoskeletal issues are not getting the attention they should, with many people working from home without having had proper risk assessments carried out. It is essential that people are given advice and correct equipment to enable them to work safely at home."
Paul added: "Our union is stepping up our campaigning in this area now for our own staff as well as our members, as we do not want to see a future epidemic of bad backs or other musculoskeletal disorders like RSI. Issues like Carpal Tunnel Syndrome can cripple people and we need to take every precaution that this does not become another side illness of long-term COVID."