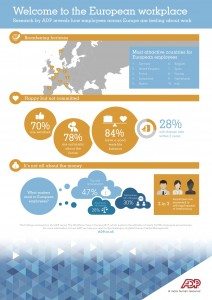 Technology frustrations are prevalent across Europe. That's according to the Workforce View in Europe 2017, a study ADP recently conducted with nearly 10,000 respondents in eight European countries. However, we were shocked to discover that these frustrations are far higher in Scotland than any other region of the UK says Annabel Jones, HR Director at ADP UK.
Invest in the tools – While technology promises infinite possibilities to improving productivity and creativity, the Scottish workforce seems unable to keep up with the pace as they struggle with slow or outdated technology. Scottish workers are more frustrated by software that is too hard to use, than any other region in the UK, with 16% going as far as to say they don't know how to use it well enough. Moreover, a quarter suffers from outdated technology and 32% complain about slow technology. All this is an indication that Scottish employers need to better equip their workforce and arm them with the tools they need to give them a technological edge.
Develop skills – When it comes to skills, 27% of Scots say they need help with Advanced IT skills right now, and almost half (48%) think employees will need to prioritise new technology and devices in the future. Employers need to ensure they have programmes for technological training and development, to help employees utilise tech to give the Scottish workplace a competitive edge. As technology is constantly evolving, you should ensure this training is ongoing, so no one gets left behind.
Changing culture – More alarming still, there are some results that indicate a general culture of mistrust. Scottish workers were very suspicious, with 16% worried about privacy and an employer monitoring their activity – making them the second most concerned region about this issue, following Northern Ireland. Similarly, a fifth (21%) of Scottish employees said they are frustrated having too many passwords to remember. With fears of automation replacing people for work, employers need to ensure their workforce aren't intimidated by tech changes, and are ready to embrace the advantages of a connected and digital organisation.
The majority of occupations involve technology in some form or another. But as the workplace is fast moving and always-on, even the slightest issue can have a big impact, causing unnecessary stress to staff, customers and clients. As a large proportion of workers desire more flexible working opportunities (68% in Europe), employees are keen for their employers to invest in technology to support this. Employee training is critical to ensure workers have the skills employers need now and in the future. Start today to ensure your workforce is ready for the fourth industrial revolution.