In Memory of Shona McKenzie
Leaving a legacy that supports disadvantaged young people across Scotland gain access to business mentors and work experience through Career Ready.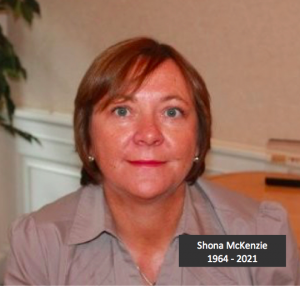 On Friday, 17th September friends, family and the wider recruitment and HR industry said farewell to the supremely talented and passionate Shona McKenzie at a beautiful, warm, and touching ceremony in Glasgow.
Tributes, tales, and fond stories flowed throughout the day as those gathered celebrated a wonderfully full life and brilliant career. The overwhelming theme of these stories, tales and conversations was what a pivotal role Shona had been to so many of us, as a guide, mentor, or supporter. It was evidently clear that Shona helped us all make better decisions, nudged, and guided our careers and connected us with others within her network to the mutual benefit of all involved.
What better way to pay tribute to this support and mentorship than to continue to offer this to future generations in the shape of a charitable fund that will benefit the Career Ready, a programme that Shona was involved with for many years. This platform and progressive charity helps thousands of young people gain access to, before unreachable, business mentors and paid internships through their transformational 2-year programme.
In 2020 alone, Career Ready Scotland helped 1,300 young people transform their situations and kick-start their future careers. The charities future aim is to expand this offering to more regions, schools and students, whose lives are genuinely changed now and in the future because of the experience it creates.
Career Ready is deeply touched to have been thought of in Shona's memory and all monies raised will be allocated to support paid internships for young people. Career Ready has also decided to create a special award in Shona's name, with a prize fund to be spent on technology, clothing, study materials for a unique and well deserving young recipient.
Support for this cause and the award has been phenomenal to date, and we would like to extend this to the wider community to contribute to the fantastic memory and this brilliant cause. Shona's family, friends, colleagues and Career Ready Scotland would be delighted for any donations and thank you for your time and support throughout the past weeks and for the future.
To donate please visit: https://justgiving.com/campaign/Shona-McKenzie