Manifesto for Scotland's young people launched
The Rural Youth Project Manifesto, which highlights the issues facing young people and how they can be better supported, was presented recently to Rural Affairs and Islands Cabinet Secretary, Mairi Gougeon. The Manifesto focuses on nine key areas: enterprise, connectivity, housing, transport, rural learning, employment, community and society, representation, and mental health.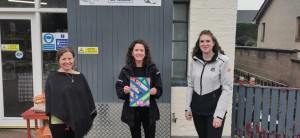 The overarching aim of the asks within the Manifesto is to raise awareness of what young people need, and, above all, it aims to inspire and encourage decision-makers at all levels to meaningfully engage with young people.
Mairi Gougeon said: "We want young people to feel confident and capable to influence and lead change in their communities. They have a crucial role to play in ensuring that rural and island communities thrive in the future – and we want their voice to be heard and their ideas to be taken forward.
"But we also know that many young people are struggling to recover from the impact of the pandemic – like everyone else, they are experiencing economic and social challenges. And Brexit threatens their long-term wellbeing, particularly to stay and make their lives in rural areas.
"The Rural Youth Project is a valued member of the Rural Youth Stakeholder Group recently established by Scottish Government. It is our hope that over time the group will become increasingly led by young people themselves and will help provide a direct link between their peers and those who make decisions that impact on their lives. They are key to helping us shape a better future for everyone in our rural and island communities."
Rural Youth Project founders and directors, Jane Craigie and Rebecca Dawes, said: "Since 2018, we've been seeking out, and listening to, young people from across Scotland and abroad. What we've found is that young people want to live in rural areas – but the challenges they continue to face are fueling de-population.
The manifesto is a call to action to keep the needs of rural young people in the mind of leaders at all levels when decisions are being made. The Rural Youth Project's growing community of young people is keen to work with policy-makers, local authorities and community decision makers to have their say and help to make changes a living reality.
The Manifesto draws on four years' worth of qualitative and quantitative learnings collected by the Rural Youth Project. The key recommendations include:
Creating mobile mental health support services that can travel to more rural and remote communities.
Establishing a Rural Youth Task Force and give a ministerial responsibility for Rural Youth.
To introduce a specific rural housing grant for young first-time homeowners looking to build, buy or renovate in a rural area, similar to the Croft House Grant Scheme.