British women suffer from 180 'Off Days' a year, according to new research
A new report reveals modern women have more off days than good ones, feeling tired or uncomfortable in their skin, on average 15 days a month (a staggering 180 days a year). Six in ten say these days affect their sex life and relationships, while a fifth cancel social plans if they are not feeling their best. Yet, according to the poll by Symprove, women only feel genuinely good about themselves eight days a month (96 a year on average).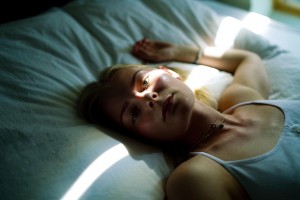 As many as 71 percent cite feeling tired as the main contributor to a lack of body confidence, with clothes not fitting properly (62 percent), and feeling bloated (60 percent) following closely behind. Bad hair days (43 percent), bad skin days (40 percent) and making comparisons to other people on social media (30 percent) also knock confidence on a daily basis, according to the report.
As many as three quarters (74 percent) said their stomach was the physical feature they felt least confident about. Shockingly, just 6 percent of women described themselves as body confident on a day-to-day basis, while half (50 percent) said they were not body confident at all.
The research, conducted by gut health brand Symprove, found that two thirds (62 percent) of women suffer 'off days' on a weekly basis, with the percentage rising significantly to 73 percent for women who live with IBS. While over a third (37 percent) of all women surveyed admitted to experiencing days where they feel bloated and their clothes do not fit properly, resulting in an average of four outfit changes before leaving the house.
Beyond physical insecurities, women are experiencing a host of gut-related issues including fatigue (66 percent), regular bloating (65 percent), cramping (40 percent), and constipation (39 percent). Despite this, more than a third (37 percent) are not comfortable talking to a partner, friends, or family about gut health, with 55 percent saying talking about bloating or general gut health in front of their partner would be 'embarrassing'. Nine in ten British females (89 percent) believe there needs to be more information about taking care of your gut available.
Sammie Gill, Gastroenterology Dietitian at Symprove said: "Our latest research shines a light on the gut challenges women face and how this affects daily body confidence. We know that feeling your best starts with your gut. Bloating is not something women should put up with, there are many strategies available to help alleviate it – including diet and taking a targeted science backed probiotic."
In partnership with TV personality Lisa Snowdown, Symprove has launched 'The Gut Couture Collection'; a fashion line designed to highlight the painful realities of IBS and gut issues, through three outfits – the Flatulence Frock, the Loo Roll Dress, and the No Bloat Ball Gown, representing some of the most common symptoms.
Lisa Snowdon said "With so many women suffering gut health issues, it is time we started talking about it more openly. The Gut Couture Collection by Symprove combines full-on fashion attitude with an actual understanding of what people with IBS and gut issues can experience. I loved wearing all the looks; not only were they very comfortable, but the fact that nothing was too tight or restrictive around the stomach made them a joy to wear."