Hr NETWORK is delighted to announce the Key Note speakers for the forthcoming Hr NETWORK Conference 2017 in association with Tesco Bank and supported by Guardian Jobs, taking place on Thursday 11th May at The Hilton Grosvenor Hotel, Grosvenor Street, (Haymarket), Edinburgh.
Opening the Conference will be leading UK and international clinical psychologist, corporate and leadership coach, businesswoman, author, TV and radio presenter and commentator Ros Taylor. No stranger to broadcast media, Ros was a presenter for five years on a nightly television news programme. She has written seven books, one of which provided the basis for BBC2's six-part documentary 'Confidence Lab' presented by Ros. The book, Confidence in Just Seven Days (Vermillion 2001), topped Amazon's bestseller list. She was also the psychology consultant in the early days of Big Brother and Celebrity Big Brother on Channel 4.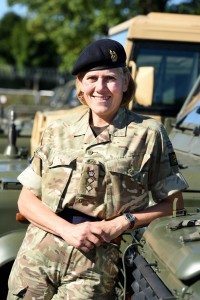 In her morning Key Note address, Ros will talk about 'Come To The Front' – a talk she has perfected following a visit to a large European bank some time ago, when she asked where the women were on their senior organisation chart as it seemed to be a male preserve. There was no pipeline of senior women waiting in the wings for promotions she was told. Ros could only surmise that the senior men were oblivious to the desire of women for promotion in the bank. 'The women are happy where they are' she was told. Some might be, others might not. So, why do women not come to the front?
Leading the afternoon Key Note speech is Colonel Stephanie Jackman, the most senior Army Reserve officer in Scotland, with a career spanning 27 years in the Royal Logistic Corps. Colonel Jackman has a wide-ranging background working throughout the UK and abroad. With deployments to Northern Ireland and Afghanistan; commanding Glasgow and Strathclyde Universities Officers' Training Corps and varied staff officer experience behind her, Stephanie is in an excellent position to discuss females in the leadership role within the Armed Forces. Working at 51 Brigade and Headquarters Scotland in Stirling, Stephanie, joined the Army as a Territorial Officer, in the pursuit of a challenge and excitement, and has since worked tirelessly to ensure that Army Reservists have the same career progression as their regular Army counterparts regardless of being male or female. 
Outlined Itinerary:

8.15am – 9.15am      Registration, Exhibition & Networking
9.30am                       Opening of the Conference by Clare Moore
9.40am                       Keynote Speaker: Ros Taylor, Ros Taylor Company
10.30am                     Refreshments, Exhibition and Networking
11.10am                     Stream 1: Breakout Sessions 1, 2, 3
12.10pm                     Stream 2: Breakout Sessions 4, 5, 6
1pm                            Lunch
1.55pm                       Stream 3: Breakout Sessions 7, 8, 9
2.55pm                       Stream 4: Breakout Sessions 10, 11, 12
3.45pm                       Refreshments, Exhibition and Networking
4.10pm                       Keynote Speaker: Colonel Stephanie Jackman, 51st Infantry Brigade
4.50pm                       Conference Close 
The Sessions
Stream 1:
Session 1 – Candidate Engagement: Setting Standards. Managing Risk.
Session 2 – Employment Law: Breaking down the barriers and bias for women in the workplace
Session 3 – Disruptive HR: Lets stop saying "employees are our greatest asset
Stream 2:
Session 4 –  Mindset: Changing our view of challenges and opportunities
Session 5 – Career Ready: Preparing young people for the world of work
Session 6 – Mental Health: Reducing the impact of a potential epidemic
Stream 3:
Session 7 – Harnessing Tomorrow's Talent: Managers are from venus and millennials are from mars
Session 8 – Culture Change: Unlearning the 'old' and embracing the 'new'
Session 9 – Diversity and Inclusion: The true value of LGBT equality in the workplace
Stream 4:
Session 10 – Now You See Me, Now You Don't: Executive presence as women leaders
Session 11 – HR and People Data: Just like oil and water?
Session 12 – Employee Engagement: Examining resilience and agility
To book your delegate place please click the link below for the Delegate Booking Form and our Conference Planning Team will do the rest!
www.hrnetworkjobs.com/events/conference/
For further information on attending the conference as a delegate, sponsor or exhibitor, contact the Conference Planning Team on Tel: 0131 625 0358 or Email: subscriptions@hrnetworkscotland.co.uk