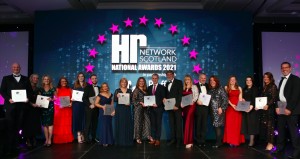 Welcome and thank you for visiting Hr NETWORK
Hr NETWORK is 'The Hub' of Scottish HR and people development with an 'Access All Areas' pass to Scotland's most influential human resource and business professionals across all sectors in Scotland.
Providing daily news, updates and regular events for the HR profession through our Magazine, National Awards, and Conference & Exhibition, as well as our recently launched exciting networking and search platform Hr MARKET, there really is no need to go anywhere else.
For further details on any aspect of our HR related services, please contact us on Tel: 0131 625 3267 or email: Hr NETWORK Team
Check out some of our new Hr MARKET advertisers…
Hr NETWORK Magazine supports Love Your Employees with the publication of the annual Employee Wellbeing Report for 2021. Each year, Love Your Employees interview 300 randomly selected senior HR decision makers, to capture their opinions [...]
Hr NETWORK magazine is the leading magazine for all HR & Training practitioners, qualified and non-qualified throughout Scotland.
As well as readers from the world of HR & Training in Scotland, the magazine is also extremely popular among SME (Small and Medium Enterprise) Organisations and is distributed as part of the new 'membership benefits subscription' to line managers, heads of department, senior management, managing directors and other professionals throughout the country who play a vital role in the development of people within all industry sectors in Scotland.
Hr NETWORK Magazine November 2021
Supporting Career Ready:
In memory of Shona McKenzie
Is your organisation enabling Scotland's talented young people to rise and shine? Career Ready and one of its key ambassadors, the late Shona Mackenzie, have been inspirational in championing disadvantaged young talent into the world of work. Andy Moore takes a closer look.
Also in the latest issue:
The regular sections of the magazine include: Stats, EXTRA and The Bookshop

The 'Insights' section features first class comment from those in the know on a range of subjects including: Better Sleep; The Company Family; Cyber Security and Career Change