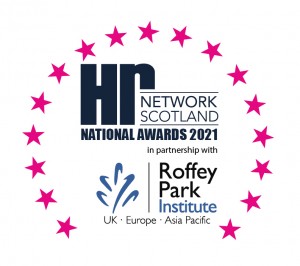 Learning and Development
Award of the Year
Sponsored by:

Award Nomination Criteria
Typical Nominees: Nominations will either be on behalf of the whole organisation or can be Trainers/Training Managers. Nominees will be nominated by their HR Director or Senior Manager who has responsibility for training/organisation development within the organisation.
Executive Summary:
Please provide a summary of your category nomination in no more than 500 words.
Supporting Evidence (essential):
Evidence of compilation/delivery, management of or commissioning of learning and development activities based on assessed organisational needs
Evidence of stakeholder engagement at leadership, management and staff levels to ensure commitment to the learning and development activities
Evidence of delivery or management of learning and development interventions, which have improved the performance or altered the behaviour of an organisation
Evidence of integration of learning and development into overall business planning of the organisation
Evidence of creativity in design, delivery and evaluation of interventions leading to additional return on investment as well as the value to the department or organisation
Search Consultancy provides recruitment solutions to organisations across all major industry sectors and they are absolutely committed to offering their sponsorship and support to identify, develop and recognise talent in each of their specialist areas.  Working so closely with Hr NETWORK, they believe gives them incredible insight into the HR profession, your passions and your challenges, and as an industry where so many clients are also candidates, where better to invest? Search HR is one of 30 niche specialisms within their exceptional recruitment service offering.